Pemuridan Relasional dalam Pelayanan Kaum Muda
Keywords:
Pemuridan Relasional, Pemuridan Kaum Muda, Pelayanan Kaum Muda
Abstract
Permasalahan utama dari kaum muda di gereja adalah kaum muda tidak mendapatan pemuridan yang baik untuk menjadi murid Kristus. Karena tidak dimuridkan dengan baik, kaum muda memiliki pemahaman yang dangkal tentang Tuhan dan kekristenan, terjebak dalam dosa, bahkan meninggalkan gereja. Hal tersebut dapat terjadi karena gereja tidak berfokus pada jemaat sebagai subjek yang perlu dirawat atau dimuridkan, namun gereja lebih fokus menjadikan dirinya sebagai lembaga Event Organizer (EO) yang kurang berelasi. Artikel ini akan membahas tentang pemuridan yang relasional sebagai salah satu kunci pemuridan kaum muda. Pemuridan relasional kepada kaum muda harus memenuhi empat kriteria relasi, yaitu loving, caring, modeling, dan corporate. Dengan melakukan pemuridan relasional, seorang pelayan kaum muda dapat menjadi rekan yang memuridkan kaum muda dalam perjalanan rohani mereka.
References
Gallaty, Robby. Rediscovering Discipleship. Yogyakarta: Perkantas, 2018.
Harington, Bobby clan Alex Absalom. Discipleship that Fits. Yogyakarta: Penerbit Katalis, 2018.
Lie, Tan Giok. Generasi ke Generasi. Bandung: Visi Anugerah Indonesia, 2017.
Putmann, Jim, Bob Harrington dan Robert E. Coleman. Discipleshift. Yogyakarta: Yayasan Gloria Katalis, 2016.
Robbins, Duffi. Building a Youth Ministry that Builds Disciple. Grand Rapids: Zondervan, 2011.
Sasongko, Nindyo. "Kala dan Kalam." 25 April 2016. https://www.youtube.com/watch?v=lS6C8P7--IA&t=885s (diakses pada 30 Agustus 2018).
Schmoyer, Tim. Life Student Ministry: Practical Conversations on Thriving in Youth Ministry. Grand Rapids: Zondervan, 2011.
Smith, Christian dan Melina Lundquist Denton. Soul Searching: The Religious and Spiritual Lives of American Teenagers. New York: Oxford University Press, 2005.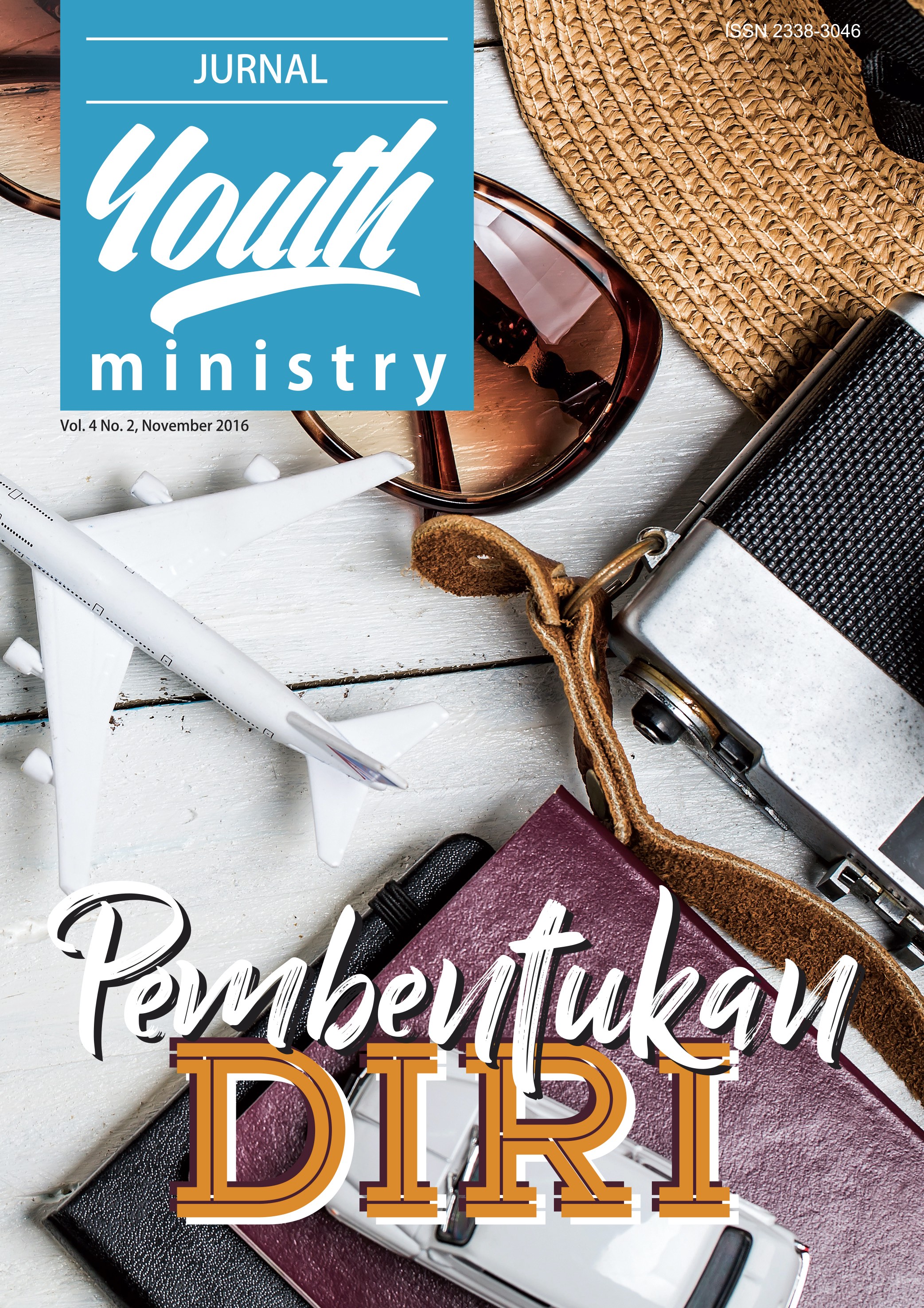 How to Cite
Sengge, J. (2016). Pemuridan Relasional dalam Pelayanan Kaum Muda. Jurnal Youth Ministry (2013-2016), 4(2), 163-171. https://doi.org/10.47901/jym.v4i2.421