Melibatkan Orang Tua dalam Pelayanan Kaum Remaja
Keywords:
Pelayanan Kaum Remaja, Melibatkan Orang Tua
Abstract
Pelayanan kaum remaja adalah sebuah pelayanan yang sulit, bahkan sering kali membuat para pelayan kaum muda frustrasi. Dinamika jiwa kaum remaja yang rumit menjadi salah satu faktor utama perihal sulitnya pelayanan kepada kaum remaja. Dalam kerumitan pelayanan remaja itu, ada banyak hal yang bisa dilakukan oleh para pelayan Tuhan dalam melayani kaum remaja di gereja. Salah satu aspek penting dalam melayani kaum remaja adalah keterlibatan para orang tua, sebab remaja adalah produk keluarga. Makalah ini bertujuan untuk menunjukkan bahwa pelayanan yang ditujukan untuk kaum remaja akan lebih efektif jika melibatkan orang tua atau keluarga mereka. Beberapa usulan praktis yang ditawarkan dalam tulisan ini adalah bekerja sama dengan orang tua, mengembangkan hubungan dengan para orang tua, bertanya kepada orang tua tentang kekhawatiran mereka, dan memelihara komunikasi dengan orang tua. 
References
Engstrom, Ted W. Youth and the Church: A Survey of the Church's Ministry to Youth, diedit oleh Roy 8. Zuck clan Roy G. Irving. Chicago: Moody Press, 1968.
Fields, Doug. Purpose Driven Youth Ministry. Diterjemahkan oleh Paulus A. Wijaya. Malang: Gandum Mas, 2014.
Johnson, Jeffrey G., Patricia Cohen, Stephanie Kasen, Elizabeth Smailes, dan Judith S. Brook "The Association of Maladaptive Parental Behaviour with Psyciatric Disorder among Parents and Their Offsping." Archives of General Psychiatry 58 (Mei 2001): 453-460.
Malm, Marguerite dan Olis G. Jamison. Adolescence. New York: McGraw-Hill Book Company, 1952.
Meares, Ainslie. Dialogue with Youth. London: Collins Fontana Books, 1973.
Moore, Kristin Anderson clan Jonathan F. Zaff. "Building a Better Teenager: A Summary of "What Works" in Adolescent Development." Research Brief, Child Trends (No­vember 2002): 1-5.
Prayitno, Elida. Psikologi Perkembangan Remaja. Padang: Angkasa Raya, 2006.
Sarwono, Sarlito Wirawan. Psikologi Remaja. Jakarta: Rajawali Press, 2015.
Susabda, Yakub. Pastoral Konseling Ji/id 1. Malang: Gandum Mas, 2009.
Whitfield, Charles L. The Truth About Mental Illness: Choices for Healing. Deerfield Beach, FL: Health Communications Inc, 2001.
Zuck, Roy B. dan Gene A. Getz. Christian Youth, an In-depth Study: Profiles of 3,000 Teenagers and Their Morals, Values, Doubts, Religious Practices, Social Characteristics, Evaluations of Themselves, Their Families, Their Churches. Chicago: Moody Press, 1968.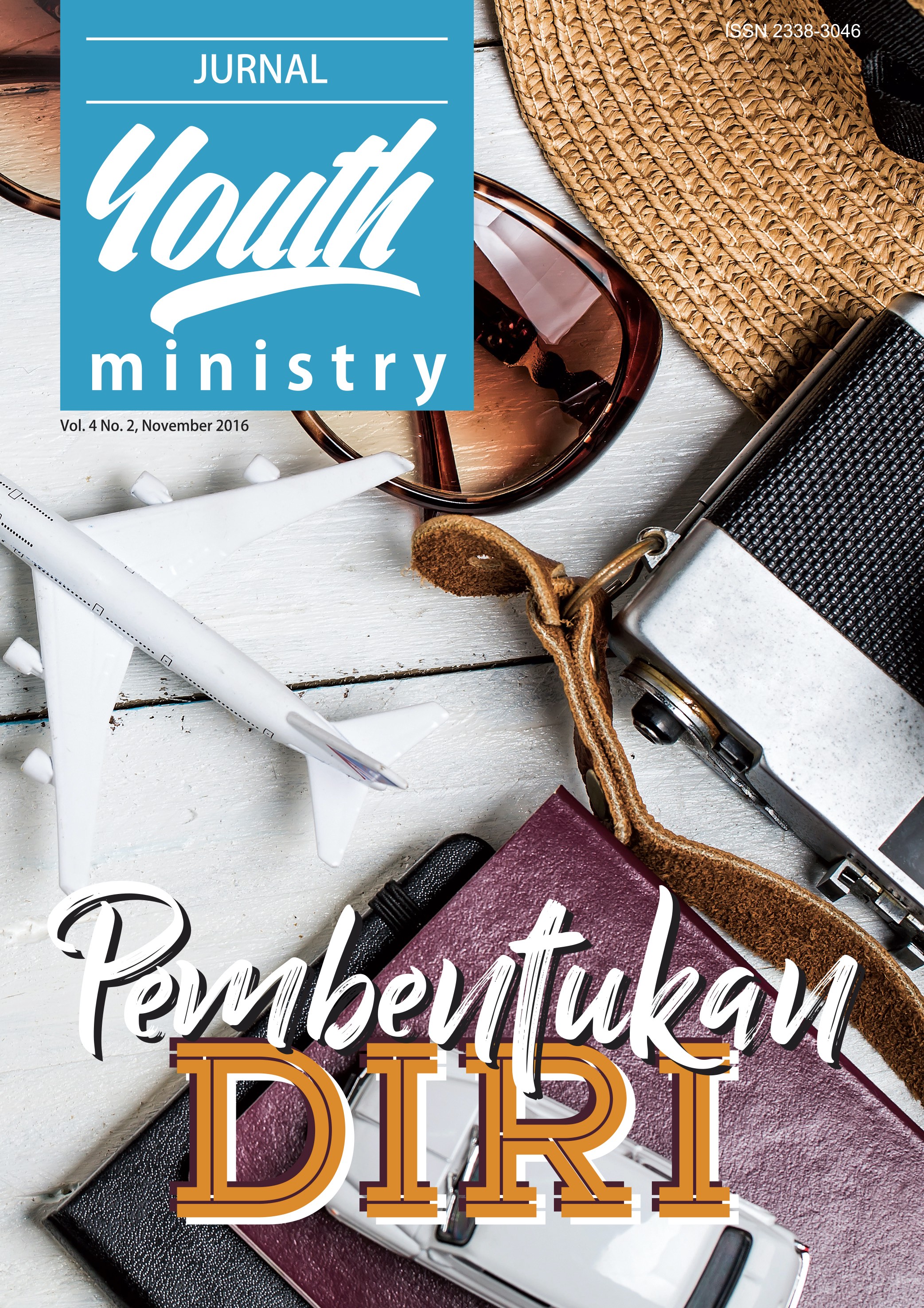 How to Cite
Anugrah, M. D. (2016). Melibatkan Orang Tua dalam Pelayanan Kaum Remaja. Jurnal Youth Ministry (2013-2016), 4(2), 151-161. https://doi.org/10.47901/jym.v4i2.449